Garrick Hagon news...
Prof. Henry Adams in
Batman: Arkham Knight
Henry / Joker
As Abraham in Dr. Who:
A Town Called Mercy
Portrait by Connor
On Wallander, December 2014
Garrick as Abraham the undertaker
in Dr. Who: A Town Called Mercy
Matt Smith with Garrick as Abraham
Brian Blessed and Hildegard Neil
Dr. Mewling
Garrick in Ninja
Garrick Hagon Interview

for the Sony-award-winning
Insight Radio
Judge Bristol
Agent Waters in Shadow Man




Arturo Canino
Garrick with Laurent Almedo
as Jacques Pils


Cy Wilson, Director of CIA, with Larry Bryggman
in "Spy Game" with Robert Redford and Brad Pitt.






Julie Walters


Leslie Phillips reads 'Hello'
Latest News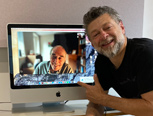 Andy Serkis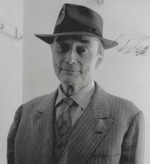 Dr. Nutling
by Fran Reidy

Kevin Toolis

For his company, The Story Circle, Garrick has been directing Werner Herzog reading his autobiography, Geri Halliwell reading the first instalment of her new series called 'Rosie Frost and the Falcon Queen', rock guitarist Thurston Moore recording the exciting story of his band, Sonic Youth and his life among the great punk musicians of the 70's and 90's. Over two weeks Garrick directed the dark and chillling thriller from Robert Galbraith, aka J.K.Rowling, read by the excellent Robert Glenister.

Meanwhile, for director Ben Wheatley and Forge Productions, Garrick has joined Robert Lindsay, Sue Johnston, Anita Dobson and Paul Benthall, playing pensioner (of course) Gabe in the cast of the new mysterious 6-part series, 'GEN Z', filming over 3 months in Wales.

After taking a number of flights to Rome for filming a few days on 'Conclave', Garrick has been directing Christopher de Bellaigue's skilful reading of his 'Flying Green', a brilliantly detailed survey of the dangers to our climate of flying anywhere!

Garrick also learned a great deal of the huge changes in Singapore life and politics while directing Windson Liong's reading of Rachel Heng's very moving story 'The Great Reclamation'.

It's been a hot and busy summer! Garrick has had the privilege of directing some great audiobooks: Werner Herzog reading his new novel 'The Twilight World' for Penquin Random House; Anna Beer recording her historical study of the first ground-breaking early female English writers, 'Eve Bites Back', for Blackstone Audio; Dame Sheila Hancock reading the latest instalment of her powerful autobiography, 'Old Rage', for Harper Collins and Robert Glenister performing the latest Robert Galbraith (J.K.Rowling) Cormoran Strike novel 'The Ink Black Heart', for Hachette Audio.

Garrick also enjoyed filming with director Anshuman Jha on his all-Indian film shot in Yorkshire playing Lord Curzon in the provisionally-titled 'Lord Curzon Ki Haveli'.

After completing 'The Hobbit' in a brilliant solo reading by Andy Serkis it was wonderful for Garrick to join Andy in tackling another audio mountain, his solo performance of the complete, unabridged 'LORD of the RINGS' for Harper Collins Audiobooks, an incredible achievement for the incredibly versatile and talented actor.

Garrick has also had the privilege of directing Chipo Chung, reading NoViolet Bulawayo's amazing 'Glory', a poetical fable of an anonymouse Africa country through years of turmoil, 'Rebels Against the Raj', a history of western contributors to India's struggle for independence, by Ramachandra Guha, read by Vidish Athavale, 'Chronicles from the Land of the Happiest People on Earth' by Wole Soyinka, a funny and brilliant satire about Nigeria, read by Michael Obiora and the inspirational 'Drawing on Courage' read in Delhi by the author, Ashish Goel. Penguin Random House US produced and publish all of these productions.

In the lull in lockdowns Garrick had a great time appearing in a new exciting Indian feature film shot on location in Yorkshire by a star Indian actor making his directing debut, all to be announced soon. After directing the mammoth production of 'Assassin's Creed: Gold' for Audible starring Riz Ahmed, Anthony Head and Tamara Lawrence, Garrick has been keeping busy in The Story Circle studio. He had a great time directing for Penguin Random House the versatile Nathaniel Parker's latest Artemis Fowl performance, 'The Fowl Twins: Deny All Charges', Allan Corduner's excellent reading of Gavriel Savit's new allegorical tale, 'The Way Back', and the witty domestic irish comedy by Eithne Shortall, 'Three Little Truths' realised in all its local detail by Alison McKenna.

Then came the hit of the fall season, Robert Galbraith's (aka J.K. Rowling's) 'Troubled Blood', a 950-page thriller read by the wonderful Robert Glenister at Strathmore Studios. 

Garrick is looking forward to teaming up again with the award-winning Nicholas Boulton reading an exciting new novel by American author, Staci Morrison, who is launching her saga of 8 fantastic stories with 'Millenium M1 – The Black Key'.  

GOLLUM! Andy Serkis, who famously played Gollum in Peter Jackson's film trilogy has just recorded a full audiobook version of J.R.R. Tolkien's 'The Hobbit' with Garrick directing down the line from The Story Circle studio to Patrick McQuaid's ID Audio studio in London. The engineer was Stephen Chase and the publishers Harper Collins.

With the sad closure of the National Theatre this week, Garrick has hung up his fedora as Dr. Nutling, which he has played in 'The Visit' by Tony Kushner, directed by Jeremy Herrin, with a splendid cast lead by Lesley Manville and Hugo Weaving. Thanks to all the cast and crew for a wonderful 4 months rehearsing and playing. May everyone be well in these uncertain times and let's hope we meet again soon.

CONGRATULATIONS to Miriam Margolyes on her AUDIE AWARD in the Literary Fiction and Classic category for her magnificent reading of Charles Dickens' 'Bleak House'. Directed by Garrick for Audible.

It was a great pleasure for Garrick to direct Natascha McElhone reading Maria Popova's stimulating new book, 'Figuring' for Penquin Random House.

He is now about to work with Mark Billingham again recording his exciting new crime novel 'Their Little Secret' and his own recording of an early work, 'Lazybones'.

On BBC Radio 4 Garrick plays Russel Smart, Elizabeth's father, in Catherine Bailey's production of 'By Grand Central Station I Sat Down and Wept', directed by Tristram Powell.

And watch for Garrick playing Superintendent Evil opposite the favourite cartoon characters of 'Gumball' in its final ever episode after 6 years of this popular series for the Cartoon Network.

Garrick recently directed the excellent Mark Billingham reading his own crime novels 'Sleepyhead' and 'Scaredy Cat' and looks forword to more recordings with him in the new year.

With The Story Circle Garrick has produced and directed 'Last Seen Wearing' written by David Hewson for Audible UK. Sound design is by Steve Foley, music by Jordan Killiard and the production stars Laurence Bouvard, John Guerassio, Stuart Milligan, Martin T.Sherman and Lorelei King in a cast of 21 actors.

You can catch Garrick as a real life if not entirely loveable character in the final episode of the universally popular cartoon 'Gumball' which will be aired in the New Year.

With director Liza Ross and sound designer John Wakefield, Garrick has produced for Audible UK 'The Man on the Mountaintop' adapted from Susan Trott's 'The Holy Man' trilogy by Libby Spurrier, and starring Stanley Tucci and Toby Jones with an excellent cast of 24 actors.

He has directed Miriam Margolyes in her stellar reading of Charles Dickens' 'Bleak House' now on release from Audible UK.



Lately on BBC Radio 4 ...

Garrick read Paul Auster's 'Winter Journal' as Book of the Week, produced by David Roper.

In Dirk Maggs' production of 'Washington 9/11' he was Donald Rumsfeld.

In 'Moby Dick' directed by Kate McAll, adapted by Steph Pinney, Garrick played Captain Ahab.

In Andrew Walker's 'The Man Who Jumped From Space' he is Colonel John Stapp who was in command of Captain Joe Kittinger's famous 130,000-foot jump from a balloon. Directed by Gary Brown.

In Julian Holloway's 'The Kane Conspiracy' directed by Sara Davies, Garrick plays RKO boss George Schaefer.



Audio News

Garrick read Benjamin in the Tinder production of Sarah Schmidt's 'See What I Have Done', now on Audible.

And his latest voices are in the new VR game 'Augmented Empire' (as Hartman), Portal Knights, SS4 Delta and Elex (as Warlord Ragnar).

For Orion and Strathmore Publishing, Garrick has directed Jilly Bond in her excellent reading of The List of My Desires by Gregoire Delacourt. And for Rushforth, Garrick has read Descendant by Graham Masterton.

Garrick has been directing Robert Galbraith's 'The Cuckoo's Calling' with Robert Glenister, 'The Hive', Gill Hornby's funny saga of London mothers, read by Karen Cass and Laura Kinsale's exciting and exotic historical novels, 'Flowers from the Storm', 'The Shadow and the Star' and 'The Prince of Midnight', read by Nicholas Boulton.

Audiobooks directed by Garrick recently include: Toby Stephens reading Michelle Paver's 'Gods and Warriors' for Penquin Audiobooks, Sophie Aldred re-creating the characters of Tree Fu Tom for Random House Children's Books and Martyn Waites performing 3 books in the Tania Carver series for Hachette Digital. Claire Bloom read Diana Athill's 'Somewhere Toward the End' and Diana herself read her own short stories, 'Midsummer Night in the Workhouse' for Persephone Books. Ian McKellen read Michelle Paver's six-part series of 'Wolf Brother', Michael Maloney read Val McDermid's 'Fever of the Bone' and Finty Williams read Rosamund Lupton's 'Afterwards'.

Garrick has just read James Patterson's 'Kill Alex Cross' for ISIS Audiobooks.

Julie Walters has recorded her warm and funny autobiography, 'That's Another Story', and her own novel, 'Maggie's Tree', for Orion Audiobooks with Garrick directing at Sans Walk Spoken Word.

Ian McKellen has recorded the fourth part of Michelle Paver's 'Chronicles of Ancient Darkness' titled 'Outcast' with Garrick directing at Sans Walk Spoken Word.

In the David Attenborough program 'Lobo' for BBC, Garrick played the voice of the trapper-turned-ecologist, Ernest Thompson Seton.

In New York at CDM Studios, Garrick has directed Frances McDormand in an exciting and very lively reading of the 1930's book by Winifred Watson 'Miss Pettigrew Lives for a Day', now a film starring Frances and Amy Adams which has its US premiere on March 2nd.

Garrick directed Philip Pullman who narrated his own story, 'Once Upon a Time in the North' with a cast of Story Circle actors. David Rintoul read Alexander McCall Smith's latest book, 'The World According to Bertie' and Samantha Bond has read 'Priestess of the White' the first book in the new Trudi Canavan trilogy. Garrick also directed Rupert Degas and Mark Bonnar reading the abridged 'Long Way Down', the exciting diary of Ewan McGregor and Charlie Boorman as they rode their bikes from John O'Groats to the tip of Africa.

For Hachette Audio Garrick has read A.E.Homes' 'This Book Will Change Your Life', directed by Liza Ross at Sans Walk Studios.

Garrick directed Juliet Stevenson reading 'The Thirteenth Tale' by Diane Setterfield and Leslie Phillips reading his autobiography, aptly named 'Hello', both productions for Orion Audiobooks. He also produced and abridged with Liza Ross the autobiography of Johnson Beharry, V.C., read by Damian Lynch, for Hachette Audiobooks and Mark Haddon's new book, 'A Spot of Bother', read by Alex Jennings.

Review of 'Huckleberry Finn' by Sue Arnold in The Guardian, Saturday, March 11, 2006:

Ideally this would have been a review of the new Mark Twain biography by Ron Power, but if Matisse, Nijinsky and Coleridge are anything to go by, it won't make it to audio. Serious biographies rarely do. So here's the next best thing, an unabridged edition of Twain's finest book, read with such unfeigned warmth, humour and gusto by Garrick Hagon that, to coin a phrase, "well, blame me if I says it and call me a low-down abolitionist if I durst but, thinks I, Mr Twain would mostwise reckon it powerful good, an I ain't fooling, dog my catch if I ain't."

That's the big problem with first-person narratives delivered in the vernacular. Vernon God Little, Angela's Ashes, anything by William Faulker and (I'll be lynched for saying this) The Curious Incident of the Dog in the Nightime are the same. Unless you're familiar with the accent and sympathetic to the tone, they take some getting into on the page. But listening to someone like Hagon, whose repertoire of accents and voices is flawless, you're immediately swept into the story without a hiccup. And what a story. Not for nothing are they called adventures, though so are Tom Sawyer's and they aren't a patch on the glorious escapades of the inimitable, irrepressible, incorrigible Huck Finn and Jim the runaway slave.... This is a genuine classic, full of laughs and fights and scams and Wild West characters that deserve a wider, younger audience. Don't miss this brilliant performance.

Hear excerpts of Huckleberry Finn on the Voice page.